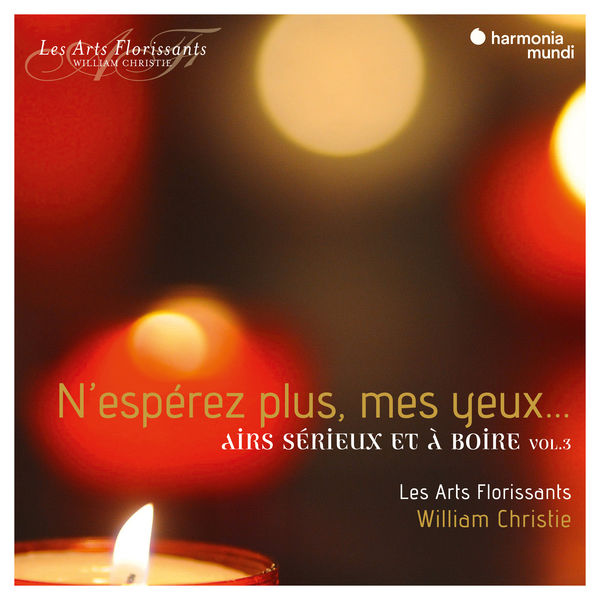 Les Arts Florissants – N'espérez plus mes yeux… Airs sérieux et à boire, Vol. 3 (2021)
FLAC (tracks) 24 bit/192 kHz | Time – 01:21:26 minutes | 1,4 GB | Genre: Classical
Studio Masters, Official Digital Download | Digital Booklet, Front Cover | © harmonia mundi
With this third volume of "Airs sérieux et à boire", the ensemble Les Arts Florissants return to this genre whose refinement had marked the French musical landscape for over a hundred years. By turns gallant, earthy, or spiritual, these vocal miniatures, prized at the French court, ushered in a ground-breaking style which opened the door to an endless variety of interpretations. "One can hardly find enough praise for the individuality of these inspired performers, for their skill to make the music animate the words ( . . . ) as they display a joyful unity of purpose. A unique event!" (Opéra Magazine).
Tracklist:
1. William Christie – Second Livre des Meslanges: Allons, allons gay gayment
2. William Christie – Airs de cour avec la tablature de luth et de guitarre, Second livre, Ballet du monde renversé: Dialogue de la Nuit et du Soleil
3. William Christie – Pièces pour le violon à 4 parties de différents autheurs: Symphonie
4. William Christie – Airs de cour avec la tablature de luth et de guitarre, Livre III: O che gioia ne sento mio bene
5. William Christie – Airs de Cour à 4 & 5 parties: Bien qu'un cruel martire
6. William Christie – Air de cour avec la tablature de luth: N'espérez plus, mes yeux (Air avec doubles)
7. William Christie – Lamento
8. William Christie – VI° Livre d'airs à 4 parties avec la Basse continue: Ô doux sommeil
9. William Christie – Airs avec la tablature de luth: Dans le lit de la mort
10. William Christie – Airs de Cour à 4 & 5 parties, Livre II: Belle qui m'avez blessé
11. William Christie – Second Livre des Meslanges: Rendés-la moy cruelle
12. William Christie – Vingt suites d'orchestre du XVIIe siècle français, vol. II: Suite instrumentale : bransle, gay, bransle à mener, double
13. William Christie – Meslanges de la musique de Claude Le Jeune à 4, 5, 6, 8 & 10 parties: Rossignol mon mignon
14. William Christie – Airs de différents auteurs mis en tablature de luth, Livre III: Quel espoir de guarir
15. William Christie – Pièces pour le violon à 4 parties de différents autheurs: Prélude pour l'Allemande cromatique & Allemande cromatique
16. William Christie – Airs de Cour à 4 & 5 parties, Livre III: Aux plaisirs, aux délices bergères
17. William Christie – Airs de cour avec la tablature de luth et de guitarre, Livre III: Souffrez, beaux yeux pleins de charmes
18. William Christie – Airs de Cour à 4 & 5 parties: Lorsque j'étais petite garce
19. William Christie – Airs de Cour à 4 & 5 parties: Que dit-on au village ?
20. William Christie – Vingt suites d'orchestre du XVIIe siècle français, vol. II: Libertas & Sarabande italienne
21. William Christie – Airs de différents auteurs mis en tablature de luth, Livre IV: Cessés mortels de soupirer
22. William Christie – Mellange de chansons tant des vieux autheurs que des modernes, à 5, 6, 7 & 8 parties: Suzanne un jour
Download:
mqs.link_LesArtsFl0rissantsNesprezplusmesyeux…Airssrieuxetb0ireV0l.3202124192.part1.rar
mqs.link_LesArtsFl0rissantsNesprezplusmesyeux…Airssrieuxetb0ireV0l.3202124192.part2.rar