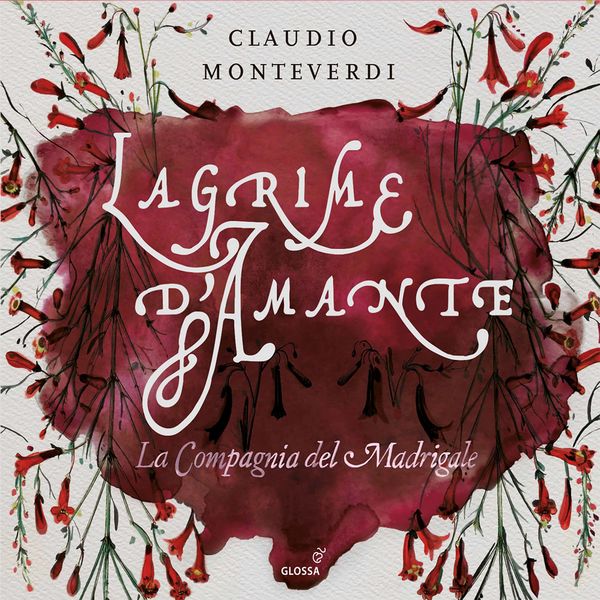 La Compagnia del Madrigale – Lagrime d'amante (2021)
FLAC (tracks) 24 bit/88,2 kHz | Time – 01:16:31 minutes | 1,21 GB | Genre: Classical
Studio Masters, Official Digital Download | Digital Booklet, Front Cover | © Glossa
With "Lagrime d'amante", La Compagnia del Madrigale, so accomplished with 16th- and 17th century Italian music and words, turns its attention afresh to the music of Claudio Monteverdi. This new Glossa release, recorded in Cumiana, outside Turin, faithfully conveys the beauty of the ensemble's vocal blend in a selection of five-part compositions drawn from the Monteverdi of Cremona, Mantua and Venice, but centring on that cornerstone of his art, the Sixth Book.
The act of singing whilst weeping – as Marco Bizzarini points out in his booklet essay – is somewhat unfeasible, but time after time Monteverdi strove to overcome that improbability by his music, often calling upon the best Italian poetry of the time: here, the fabulously vivid imagery of Torquato Tasso, Battista Guarini and Petrarch are well served by Monteverdi's musical response.
The programme takes us through various troubled emotional states involving love: a lover dying of love, the "partenza amorosa" (or lovers' separation), even a shepherd accidentally wounding his loved one, but also the outpouring of grief in the Lagrime d'amante al sepolcro dell'amata, a commissioned madrigal cycle to newly written words lamenting the death in 1608 of the promising singer Caterina Martinelli, a pupil of the composer, but also that of Monteverdi's wife.
This work and others on this recording involved the lamented bass Daniele Carnovich to whom the group pay tribute; the sessions were completed by Matteo Bellotto.
Tracklist:
1. La Compagnia del Madrigale – Ecco mormorar l'onde e tremolar le fronde, SV 51
2. La Compagnia del Madrigale – Era l'anima mia già presso a l'ultim' hore, SV 96
3. La Compagnia del Madrigale – A un giro sol de bell' occhi lucenti, SV 84
4. La Compagnia del Madrigale – Ecco Silvio colei che in odio hai tanto, SV 97
5. La Compagnia del Madrigale – Mentre io miravo fiso de la mia donna, SV 50
6. La Compagnia del Madrigale – Baci soavi e cari, cibi della mia vita, SV 27
7. La Compagnia del Madrigale – Non più guerra pietate occhi miei belli, SV 88
8. La Compagnia del Madrigale – Rimanti in pace a la dolente e bella Fillida, SV 74
9. La Compagnia del Madrigale – O primavera gioventù dell' anno, SV 68
10. La Compagnia del Madrigale – Ah dolente partita, ah fin de la mia vita, SV 75
11. La Compagnia del Madrigale – Zefiro torna e'l bel tempo rimena, SV 108
12. La Compagnia del Madrigale – Longe da te cor mio struggomi di dolore, SV 92
13. La Compagnia del Madrigale – Lagrime d'amante al sepolcro dell' amata, SV 111
Download:
mqs.link_LaC0mpagniadelMadrigaleLagrimedamante202124882.part1.rar
mqs.link_LaC0mpagniadelMadrigaleLagrimedamante202124882.part2.rar