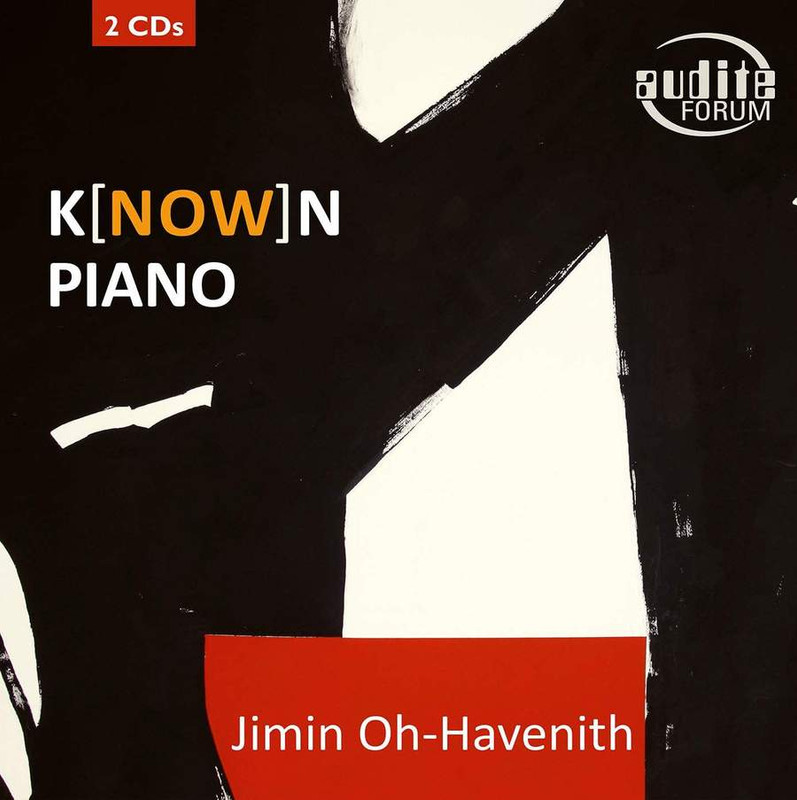 Jimin Oh-Havenith – K(NOW)n Piano (2021)
FLAC (tracks) 24 bit/96 kHz | Time – 01:50:04 minutes | 1,94 GB | Genre: Classical
Studio Masters, Official Digital Download | Digital Booklet, Front Cover | © audite|forum
World-famous and original piano works spanning 250 years of piano writing from Bach to Pärt gain aesthetic presence in Jimin Oh-Havenith's sensitive interpretations.
Jimin Oh-Havenith's third CD album for audite – following her recordings of great classical and romantic piano sonatas (Schubert, Liszt / Beethoven) – is dedicated to a completely different aspect in the immense world of piano music: different formats, such as a theme for variations, single sonata movements, the etude, the character piece and the free piece. These works span 250 years, from the early eighteenth century until 1976, comprising the baroque, classical, romantic, modern and post-modern styles. Pieces familiar to every piano student, such as Bach's C major Prelude from the Well-Tempered Clavier, the Turkish March from Mozart's Piano Sonata in A major, K. 331, and
Beethoven's Für Elise, are contrasted with virtuoso works such as Liszt's Etude La campanella, Ravel's Jeux d'eau and – with a nod towards the New World – Louis Moreau Gottschalk's Le bananier. There is, of course, a programmatic structure connecting these 21 pieces to one another, hinted at by the title of the album, known / now: well-known and world-famous pieces on the one hand, and more obscure, though no less original, works on the other, creating a dialogue. Illuminating and informing each other, they gain aesthetic presence in Jimin Oh-Havenith's sensitive interpretations.
Tracklist:
1. Prelude in C Major, BWV 846 (02:26)
2. Goldberg Variations, BWV 988: Aria (03:21)
3. Sonata No. 11 in A Major, K. 331: III. Rondo "Turkish March" (03:29)
4. Sonata No. 16 in C Major, K. 545 "Sonata Facile": I. Allegro (02:27)
5. Bagatelle No. 25 in A Minor, WoO 59 "Für Elise" (03:48)
6. Impromptu in A-Flat Major, Op. 90 No. 4, D. 899 (08:09)
7. Nocturne in C-Sharp Minor, Op. 27 No. 1 (06:45)
8. Scenes from Childhood, Op. 15: VII. Dreaming (02:24)
9. Romance in F-Sharp Major, Op. 28 No. 2 (03:08)
10. Songs without Words, Book 6, MWV U 102: Andante tranquillo in B-Flat Major, Op. 67 No. 3 (02:32)
11. Le bananier in C Minor, Op. 5, RO 21 (03:07)
12. Liebestraum No. 3 in A-Flat Major, S. 541 (05:21)
13. Six Grandes Études de Paganini, S. 141: La campanella, Etude No. 3 in G-Sharp Minor (05:47)
14. Ballade in B Major, Op. 10 No. 4 (10:20)
15. Lyric Pieces III, Op. 43: II. Lonely Wanderer (02:34)
16. España, Op. 165: I. Prelude in D Minor (02:19)
17. Suite bergamasque, L. 75: III. Claire de Lune (05:20)
18. Prelude in D Major, Op. 23 No. 4 (05:54)
19. Prelude in G Minor, Op. 23 No. 5 (04:26)
20. Jeux d'eau, M. 30 (06:38)
21. Für Alina (09:30)
22. 12 Variations in C Major, K. 265 on 'Ah, vous dirai-Je, Maman' (Bonus Track) (10:19)
Download:
mqs.link_Jimin0hHavenithKN0WnPian020212496.part1.rar
mqs.link_Jimin0hHavenithKN0WnPian020212496.part2.rar
mqs.link_Jimin0hHavenithKN0WnPian020212496.part3.rar