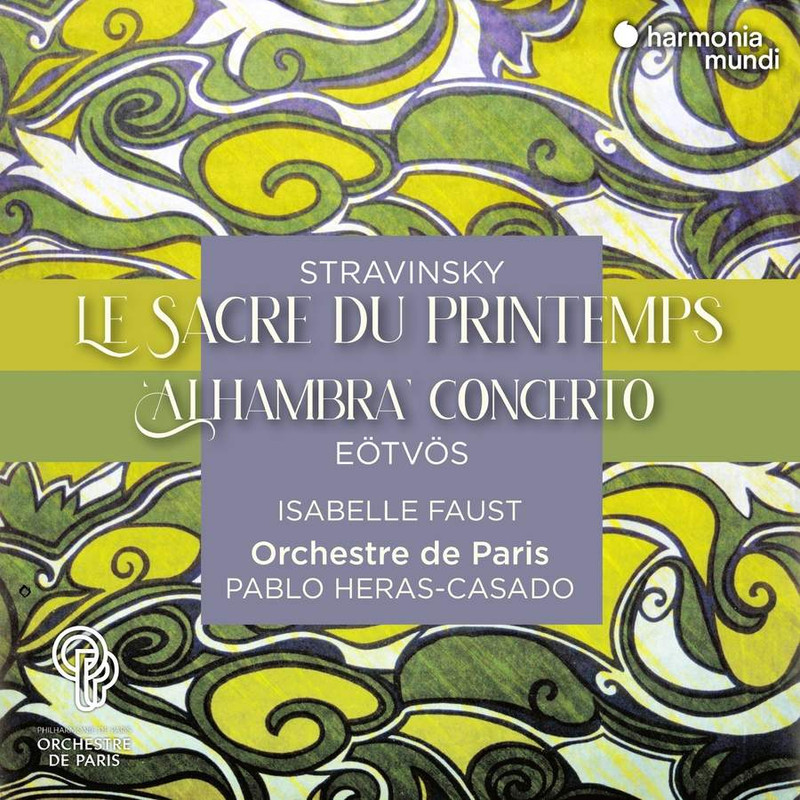 Isabelle Faust – Stravinsky Le Sacre du printemps – Eötvös Alhambra Concerto (2021)
FLAC (tracks) 24 bit/48 kHz | Time – 57:41 minutes | 564 MB | Genre: Classical
Studio Masters, Official Digital Download | Front Cover | © harmonia mundi
More than a century after the historic scandal of its premiere at the Théâtre des Champs-Élysées, The Rite of Spring has established itself as one of the "musts" of the modern orchestral repertory. And if the source of the telluric forces generated by Stravinsky lay in pagan Russia, it is beneath the arabesques of the palaces of Andalusia that Péter Eötvös found the inspiration for his third violin concerto, entitled Alhambra. The work's dedicatees, Isabelle Faust and Pablo Heras-Casado, here present its very first recording.
Tracklist:
01. Isabelle Faust, Orchestre de Paris & Pablo Heras-Casado – Violin Concerto No. 3 "Alhambra"
02. Isabelle Faust, Orchestre de Paris & Pablo Heras-Casado – Le Sacre du printemps, Pt. 1, L'Adoration de la Terre: I. Introduction
03. Isabelle Faust, Orchestre de Paris & Pablo Heras-Casado – Le Sacre du printemps, Pt. 1, L'Adoration de la Terre: II. Les Augures printaniers – Danses des adolescentes
04. Isabelle Faust, Orchestre de Paris & Pablo Heras-Casado – Le Sacre du printemps, Pt. 1, L'Adoration de la Terre: III. Jeu du rapt
05. Isabelle Faust, Orchestre de Paris & Pablo Heras-Casado – Le Sacre du printemps, Pt. 1, L'Adoration de la Terre: IV. Rondes printanières
06. Isabelle Faust, Orchestre de Paris & Pablo Heras-Casado – Le Sacre du printemps, Pt. 1, L'Adoration de la Terre: V. Jeux des cités rivales
07. Isabelle Faust, Orchestre de Paris & Pablo Heras-Casado – Le Sacre du printemps, Pt. 1, L'Adoration de la Terre: VI. Cortège du sage
08. Isabelle Faust, Orchestre de Paris & Pablo Heras-Casado – Le Sacre du printemps, Pt. 1, L'Adoration de la Terre: VII. Le Sage – Danse de la Terre
09. Isabelle Faust, Orchestre de Paris & Pablo Heras-Casado – Le Sacre du printemps, Pt. 2, Le Sacrifice: I. Introduction
10. Isabelle Faust, Orchestre de Paris & Pablo Heras-Casado – Le Sacre du printemps, Pt. 2, Le Sacrifice: II. Cercles mystérieux des adolescentes
11. Isabelle Faust, Orchestre de Paris & Pablo Heras-Casado – Le Sacre du printemps, Pt. 2, Le Sacrifice: III. Glorification de l'élue
12. Isabelle Faust, Orchestre de Paris & Pablo Heras-Casado – Le Sacre du printemps, Pt. 2, Le Sacrifice: IV. Évocation des ancêtres
13. Isabelle Faust, Orchestre de Paris & Pablo Heras-Casado – Le Sacre du printemps, Pt. 2, Le Sacrifice: V. Action rituelle des ancêtres
14. Isabelle Faust, Orchestre de Paris & Pablo Heras-Casado – Le Sacre du printemps, Pt. 2, Le Sacrifice: VI. Danse sacrale (L'Élue)
Download:
mqs.link_IsabelleFaustStravinskyLeSacreduprintempsEtvsAlhambraC0ncert020212448.rar