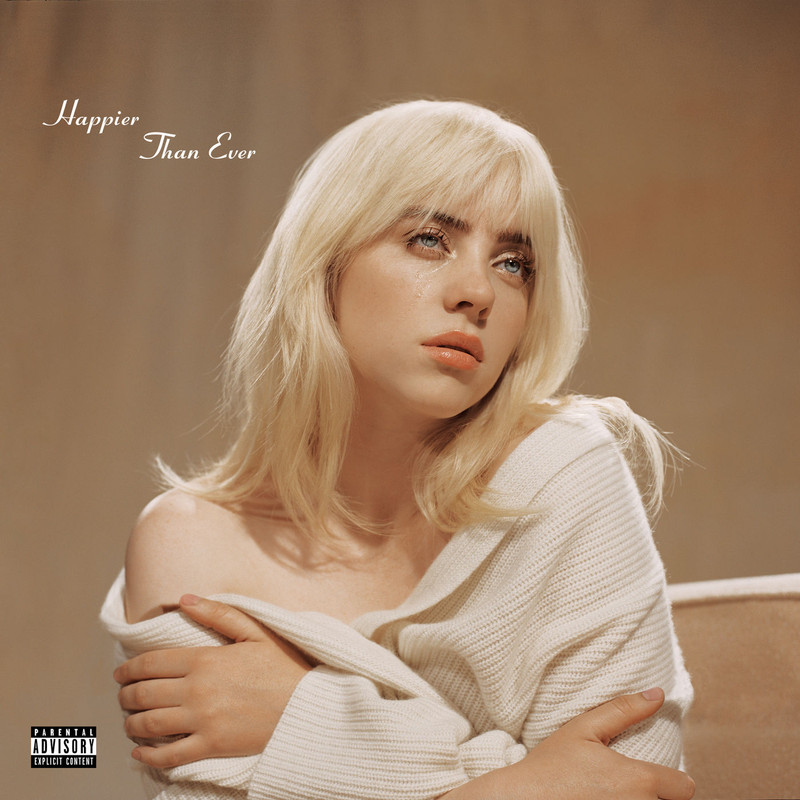 Billie Eilish – Happier Than Ever (2021)
FLAC (tracks) 24 bit/44,1 kHz | Time – 56:07 minutes | 570 MB | Genre: Pop
Studio Masters, Official Digital Download | Front Cover | © Darkroom – Interscope Records
Happier Than Ever is the second studio album by American singer and songwriter Billie Eilish, released on July 30, 2021, by Darkroom and Interscope Records. It follows her debut studio album, When We All Fall Asleep, Where Do We Go? (2019). Eilish has cited self-reflection as the biggest muse behind the record, with lyrical themes including emotional abuse, power struggles, and mistrust, among others.
Five singles preceded the album: "My Future", "Therefore I Am", "Your Power", "Lost Cause", and "NDA", all of which charted in the top 40 of the US Billboard Hot 100. To promote the album, a Disney+ documentary concert film, Happier Than Ever: A Love Letter to Los Angeles, will be released on September 3, 2021. Eilish will also embark on Happier Than Ever the World Tour in 2022. Before its release, Happier Than Ever became the most pre-added album in Apple Music history.
A subtle triumph in the face of overwhelming pressure and expectations, Happier Than Ever is the sound of an artist coming into their own. Without losing any of the experimental, genre-blurring spirit of her Grammy-conquering debut, Billie Eilish elevates her trademark sound and expands her scope with the assistance of her producer-brother Finneas. In addition to baring her soul with increasingly confessional lyrics, she's also strengthened her delivery and range, taking inspiration from jazz and vocal pop greats of old like Julie London and Peggy Lee, lending a timeless air to tracks like "Billie Bossa Nova" and "my future." With this sophomore set, Eilish steps out of the shadows of When We All Fall Asleep, transforming from the creepy little sibling that freaks out the neighbors into a poised and confident young adult with existential issues aplenty. Growing older (relatively) and wiser in the years following her breakthrough, she processes the flood of experiences that come with a swift ascent in the public eye. Reflecting on the pitfalls of being famous, the introductory "Getting Older" reveals the immense pressure and associated dangers of the limelight, setting her insight and measured optimism to a delicate electronic heartbeat. Later, she charts her struggles in a male-dominated industry and details encounters with predatory men and misogyny on the scathing "Your Power," an indictment of exploitation disguised as a gorgeous acoustic ballad, and on the striking interlude "Not My Responsibility," she confronts critics and toxic opinions atop ominous synths and atmospheric haze before calling out media objectification on the hypnotic "OverHeated." Beyond these emotional trials, Eilish leans into the album's title, realizing her own growth, hope for the future, and newfound feelings of self-love and self-empowerment. The nostalgic Bristol-scene trip-hop vibes of the dubby "I Didn't Change My Number," hit single "Therefore I Am," and the boom-bap-lite "Lost Cause" offer mischievous diversions from the otherwise moody meditations, but a trio of dynamic standouts steal the show. Throbbing to life with deep bass and a thick beat, the lustful "Oxytocin" is a club hit in the making, nailing the pleasure centers like the titular hormone, while the cautionary "GOLDWING" lures listeners in with an angelic hymn before skittering to life with tribal flair like early-era Björk. On the title track, Eilish begins with an old-timey vocal showcase that explodes into a '90s alt-rock rager, complete with cathartic kiss-off lyrics, crashing drums, and jagged riffs. In these moments, Eilish reclaims a bit of herself and hones her perspective, effortlessly playing with a wide range of genres in the process. Delivering on the promise of her industry-shaking debut with confidence and grace, Happier Than Ever has the markings of a big career moment, one that signals artistic growth and hints at even more greatness to come. – Neil Z. Yeung
Tracklist:
01. Billie Eilish – Getting Older
02. Billie Eilish – I Didn't Change My Number
03. Billie Eilish – Billie Bossa Nova
04. Billie Eilish – my future
05. Billie Eilish – Oxytocin
06. Billie Eilish – GOLDWING
07. Billie Eilish – Lost Cause
08. Billie Eilish – Halley's Comet
09. Billie Eilish – Not My Responsibility
10. Billie Eilish – OverHeated
11. Billie Eilish – Everybody Dies
12. Billie Eilish – Your Power
13. Billie Eilish – NDA
14. Billie Eilish – Therefore I Am
15. Billie Eilish – Happier Than Ever
16. Billie Eilish – Male Fantasy
Download: